European Film Festival 2023 opens in Ha Noi
May 22, 2023 11:36 AM GMT+7
VGP - The European Film Festival (EUFF) 2023 in Ha Noi opened on the evening of May 21, screening films from 19 European countries.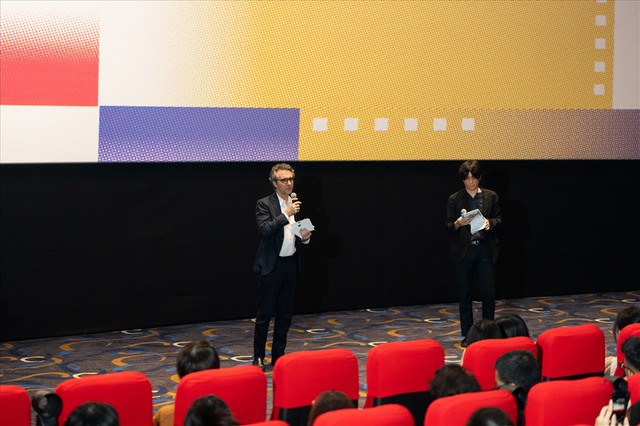 The festival is organized by the EU Delegation to Viet Nam in cooperation with embassies and cultural institutions of EU Member States and the Embassy of Ukraine in Vietnam, with the support of the EU Policy and Outreach Partnership Initiative (EUPOP).
This is the 22nd edition of the program. In addition to Hanoi, the festival will be held simultaneously in Ho Chi Minh City and Hue from May 19 to June 4.
Featuring a selection of contemporary European cinema, including several award-winning entries, EUFF 2023 presents stories set in a range of spatiotemporal contexts.
Taking the idea of "journeys" as its starting point, the festival introduces a diverse cast of characters - parents and children, athletes, artists, writers, emigrants, friends, and strangers - who travel across the continent to explore their identity, community, and heritage, often having a memorable time in the process.
Through their perspectives, Europe appears in all its kaleidoscopic beauty.
Besides the film screenings, the festival's activities include discussion sessions after the screening, under the coordination of film writer Le Hong Lam; as well as the Film Review Writing Contest, which creates a space for viewers to interact and express their thoughts and feelings about movies, through social media.
EU Ambassador to Viet Nam Giorgio Aliberti said: "As the birthplace of cinematic art, Europe has always been known for great films from every geographical region. Although this year is the 22nd edition of EUFF in Viet Nam, we are delighted to be still able to present so many critically acclaimed, memorable, and always new European contemporary films which are touching with humane value."
The 19 films will be screened at the National Cinema Center, 87 Lang Ha Street, Ba Dinh District. For full details of the EUFF 2023 program and screening schedule, please visit: https://engage.eu/euff-vn-2023./.