6th Int'l Film Festival to take place from November 8 -12
November 10, 2022 7:48 PM GMT+7
VGP - The Ministry of Culture, Sports and Tourism (MCST), in collaboration with the Ha Noi People's Committee, organized the sixth Ha Noi International Film Festival entitled "Cinema - Humanity, Adaptation and Development" in Ha Noi from November 8 to 12.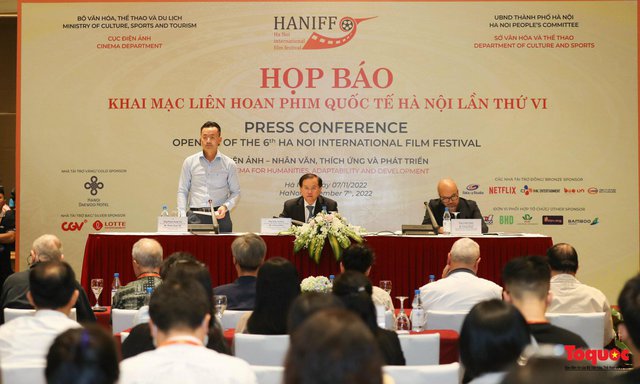 On the afternoon of November 7, the Ministry of Culture, Sports and Tourism coordinated with the Ha Noi People's Committee to hold a press conference to open the 6th Ha Noi International Film Festival.
Eight hundred domestic and international guest delegates will participate in the film festival with 123 films from more than 50 countries and regions, including the UK, USA, Finland, China, India, South Korea, France, Russia, Poland, Japan, Hungary, Switzerland, Argentina, and Mexico.
Specifically, there are 11 long and 20 short films participating in the competition; 7 movies in the South Korean movie spotlight program, 63 films in the world cinema program and 22 contemporary Vietnamese films.
Deputy Minister of MCST Ta Quang Dong said these were colorful films with many unique and creative expressions, promising to meet the expectations of the cinema-loving public.
Besides film screenings, the 6th Ha Noi International Film Festival will organize many exciting activities such as the exhibition "The filming scene is Ha Noi's monuments and cultural heritage" and visits to monuments and landscapes in Ha Noi.
Especially from 7:00 p.m. on November 9-11 at the statue of Ha Noi's suicide defenders - Hoan Kiem Lake Walking Street, audiences can participate in outdoor movie shows, with eight films in the genres of documentaries, animations, and feature films.
Deputy Director of the Ha Noi Department of Culture and Sports Pham Xuan Tai affirmed that the departments would work closely and responsibly to make the film festival successful and achieve the best results./.