Additional US$164 million for Ring Road 4 project approved
April 04, 2023 9:06 AM GMT+7
VGP - Chairman of the Ha Noi People's Committee Tran Sy Thanh has signed a decision signed on revising the city's public investment plan for 2023, including an injection of VND3.84 trillion (US$164 million) for the construction of the Ring Road No. 4 project.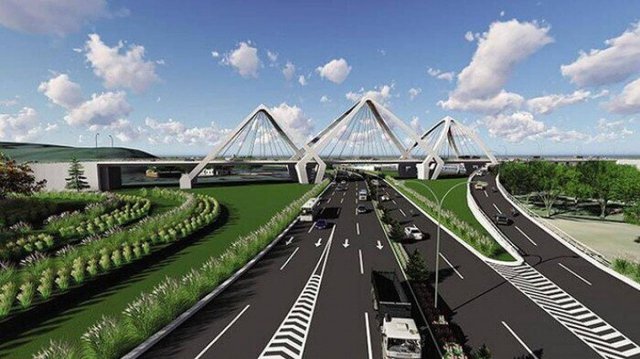 Under the plan, an estimated VND3.3 trillion (US$140.6 million) would be added to Component 1.1 - Compensation and Resettlement of Affected Households, and VND550 billion ($23.43 million) to Component Project 2.1 - Construction of Urban Roads under Ring Road No. 4 in Ha Noi.
The City has allocated VND400 billion (US$17 million) for advance disbursement related to technical design, construction drawing, and cost estimation to speed up the investment preparation process.
In addition, the committee has emphasized the need to accelerate the implementation of key projects and the disbursement of the 2023 Public Investment Plan.
The Ministry of Planning and Investment, the Ministry of Finance, and specialized departments such as Construction and Transport, as well as the Ha Noi Department of Finance and related units, are responsible for facilitating, guiding, and expediting the investment, construction, disbursement, and payment procedures of the projects. They must ensure that the investor can implement the project in accordance with State and City regulations on investment and construction management while maintaining progress and quality.
With a length of 112.8 kilometers and an area of 1,341 hectares, Ring Road No. 4 will run through the towns of Ha Noi, Hung Yen, and Bac Ninh. The project, which is expected to cost around VND86 trillion (US$3.64 billion), will be broken down into seven parts, three of which will offer compensation and assistance to households that have been relocated, the other three will use public funds to build urban roads, and the final one will use a public-private partnership to build an expressway.
The project is expected to improve connectivity between Ha Noi and other northern provinces upon completion and opening to traffic in early 2027 and support the socio-economic development of the entire northern region, with Ha Noi acting as the primary driver of growth./.