Construction of Ring Road No.5 to begin before 2030
August 30, 2022 8:05 PM GMT+7
VGP - The local authorities of Ha Noi is determined to complete Ring Road No.4 before 2027; start the construction of Ring Road No.5 before 2030; upgrade Noi Bai International Airport, and conduct feasibility for a new international airport.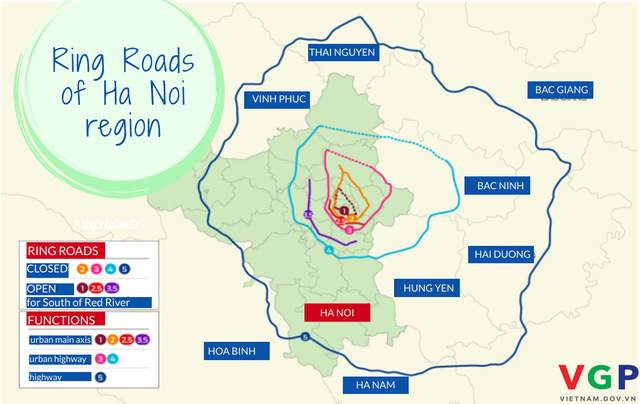 This is part of an action plan signed by the Secretary of the Ha Noi Party Committee Dinh Tien Dung to realize Politburo's resolution on Ha Noi's development until 2030, with a vision to 2045.
The city is planning several major projects over the next ten years to form a modern transportation and logistics infrastructure that would meet the growing demands of development in the Ha Noi Capital Zone and the northern region in general.
In terms of urban development, Ha Noi is looking at options to form new growth pillars, and gradually establish urban clusters and satellite cities based on the transport-oriented development (TOD) model.
The city also gives a priority to accelerate the renovation and repair of old apartment buildings, focusing on category D, the most dangerous in a four-scale classification with deteriorating conditions and inadequate services.
The action plan stresses noted the necessity to ensure national defense, security, and public order in any circumstance; promote international integration and cooperation to enhance Ha Noi's status on the global stage; build a strong, healthy political system in Ha Noi.
The municipal Party Committee called for drastic actions to refine the capital's legal framework and policies to better reflect the next development phase, focusing on the institutional system; policies; and decentralization mechanisms.
Ha Noi aims to realize an average GDP growth of 7-7.5 percent by 2025, and 7.5 percent by 2030.
The city is set to complete the digital transformation in the capital apparatus by 2025./.