Construction of Ring Road No. 4 scheduled to begin in mid-2023
August 23, 2022 8:13 PM GMT+7
VGP - The authorities of Ha Noi and neighboring cities/provinces re expected to complete the preparation for the construction of the Ring Road No.4 by January 31, 2023 and begin works no later than June 30, according to Government's resolution No.106.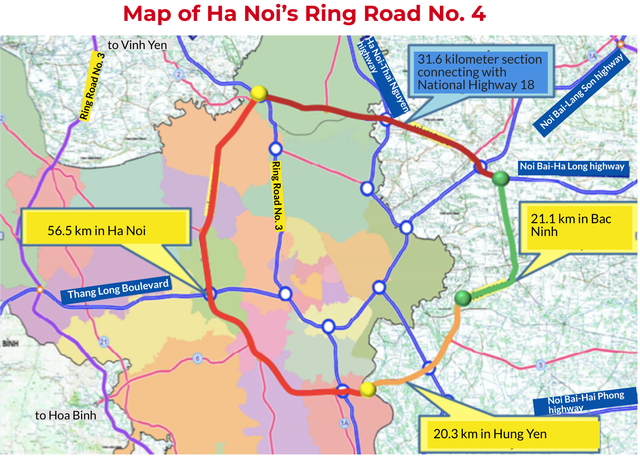 Deputy Prime Minister Le Van Thanh gave the timeline to implement the National Assembly's investment policy on the construction of the Ring-road No.4.
Under the resolution, the Government assigned the Chairman of the People's Committee of Hanoi, Hung Yen, and Bac Ninh to approve sub-components of the projects in compliance with regulations on public investment.
In this regard, the Ministry of Construction would be responsible for reviewing the feasibility study report for the construction of urban roads in Hung Yen and Bac Ninh provinces.
The authorities of Ha Noi would conduct a feasibility study on the construction of the expressway component, set to be financed under the public-private partnership mechanism.
Leaders of the three cities/provinces would apply the direct-contracting method for consultant packages and other works on the reallocation of technical infrastructure, land requisition compensation, and resettlement for affected households from the state budget funds in the 2022-2023 period.
Three cities/provinces are held responsible for the progress, quality and efficiency of each component under their respective administration, preventing possible corruption and waste.
Accordingly, the construction of Ring Road No. 4 will be finalized by 2026. The project will be put into operation from 2027.
The ring road will have a total length of 112.8 kilometers, with 58.2 kilometers in Ha Noi, 19 kilometers in Hung Yen and 25.6 kilometers in Bac Ninh.
It will have four lanes and allow for a maximum speed of 80 kilometers per hour.
The project will comprise three groups with seven components, with the first group consisting of three site clearance components in the three localities. Three components in the second group will develop parallel roads, while an expressway will be executed in the component in the third group via a build-operate-transfer contract./.