Under 1-year-old children to get two doses of IPV
October 26, 2022 3:15 PM GMT+7
VGP - The Ha Noi Department of Health has issued a plan on the administration of the second dose of inactivated poliovirus vaccine (IPV) to children under 1 year old in the expanded immunization program.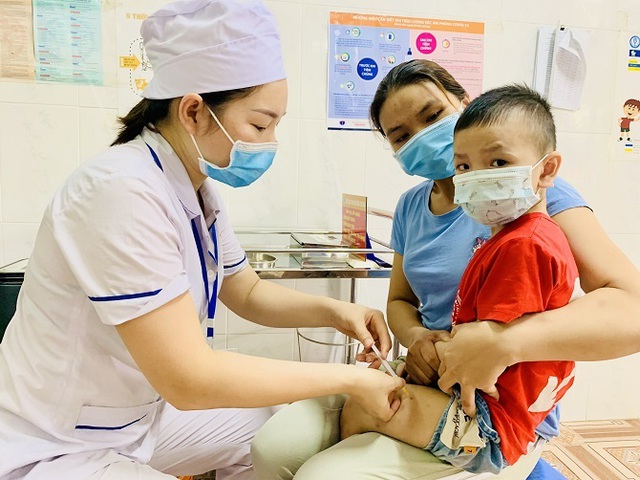 Vaccination is expected to take place starting in November 2022 or immediately after the vaccine arrives.
Vaccination goals
The city targets that 90% of children from 9 to 12 months receiving the first dose of IPV will be injected with the second dose in the expanded vaccination program.
The vaccination is held at all health stations in the city's communes, wards, and districts.
The health department has tasked the Ha Noi Center for Disease Control (CDC) with developing detailed plans and guiding district medical centers on communication.
The communication should focus on mothers with children between 9 and 12 months, offering content such as the benefits of vaccination, the schedule, the monitoring guidelines, and the detection of reactions after vaccination.
The Ha Noi CDC was tasked to provide professional guidance to all levels on receiving and preserving vaccines, carrying out the vaccination, monitoring and dealing with unexpected incidents after vaccination, and instructing units to review the cold chain for vaccine preservation.
The national expanded program on immunization is providing immunization to 10 vaccine preventable diseases in Viet Nam.
Current compulsory vaccines used in the program include hepatitis B, tuberculosis, diphtheria, whooping-cough, tetanus combination vaccines, polio, haemophilus influenzae type b, measles, Japanese B encephalitis and rubella.
The country's national expanded program on immunization has led to the successful eradication of polio, elimination of neonatal tetanus and control of measles, said the World Health Organization (WHO).
Over the last 25 years, vaccines have protected 6.7 million Vietnamese children and prevented 42,000 deaths from deadly childhood diseases such as diphtheria, pertussis, polio and tetanus, statistics from the WHO showed.
In the long run, the Government issued a resolution on the roadmap to increase the diversity of the vaccines in the program, which plans the use of those against Rotavirus from 2022-2023, pneumococcal disease from 2025, cervical cancer from 2026, and seasonal flu from 2030./.