Capital accelerates Covid-19 vaccination
August 10, 2022 2:07 PM GMT+7
VGP - Ha Noi authorities have called for more efforts to ramp up the administration of COVID-19 vaccine booster shots to local residents in the wake of rising Coronavirus cases.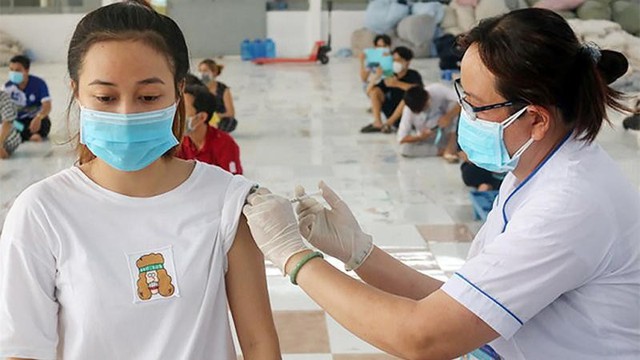 This is part of a decision signed on August 9 by Chairman of the municipal People's Committee Tran Sy Thanh.
The move was made as the caseload with new strains BA.04 and BA.05 in the city is increasing and that vaccination against Covid-19 is an effective and strategic measure in disease prevention and control, stated the document.
Local authorities have been asked to urge high-risk and vaccine-hesitant people to complete the two-dose vaccination and ramp up at-home inoculations for homebound people who are aged above 50 with underlying health conditions, or at a high risk of severe illness from Covid-19, especially those who have not been inoculated, partially vaccinated, or refused vaccination, the notice added.
The city launched a vaccination campaign to completely vaccinate children aged 5 to under 12 in August, early finalize the 3rd and 4th doses for the adult population, and accelerate third dose inoculation for people from 12 to under 18 years old under the guidance of the Ministry of Health.
Heads of the district-level authorities must be held accountable if any high-risk citizens go unvaccinated against Covid-19.
To date, about 99% of the people aged over 12 in Ha Noi have been double dosed and nearly 55% have received the booster jabs.
However, Ha Noi is one of the five localities with the lowest rates of second dose administration among the group of children aged 5 to under 12./.