Nhon – Ha Noi station metro line to be completed by late 2022
August 07, 2022 8:22 PM GMT+7
VGP - The Nhon – Ha Noi Station metro line is expected to be completed by December 31, 2022, and contractors are requested to halve the construction time of the underground section, originally scheduled for 2027, said Prime Minister Pham Minh Chinh.
The Prime Minister made the request while inspecting the metro line construction project on August 7 in Ha Noi.
During the visit, Chinh called for drastic measures to address the remaining issues and draw lessons for similar projects in the future.
A joint declaration between Viet Nam and France during the prime minister's visit to France last November suggested the elevated part of the project should be completed by December 2022, and the financing agreement revised to proceed with the underground section (Cau Giay – Hanoi station) after 2022.
Regarding a potential increase in the total investment capital, Mr. Chinh said the Government would consider using the state budget finance instead of seeking ODA loans, due to complicated procedures.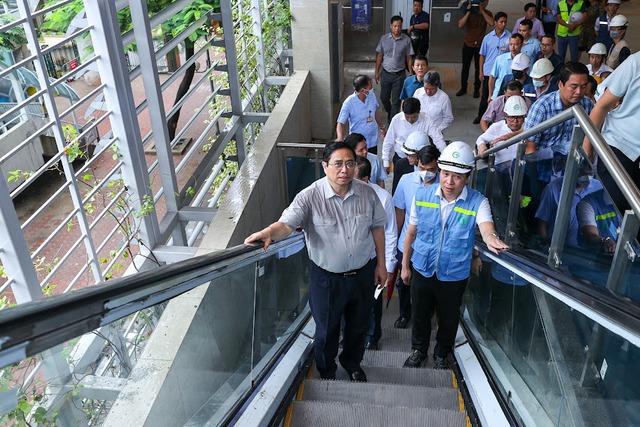 The Nhon – Ha Noi station metro project with financial backing from the French Government, the French Development Agency (AFD), and the European Investment Bank (EIB) has a total length of 12.5 kilometers, running through eight elevated and four underground stations.
A report from the Ha Noi Project Management Board of Urban Railway noted the metro line project was launched in September 2010, and so far has been completed by 75%, in which 95% of the elevated section (Nhon – Cau Giay) has been finished.
Difficulties during the implementation process, however, have delayed the project beyond the original 2016 deadline and its investment costs doubled to VND34 trillion (US$1.45 billion).
The delay is attributed to sophisticated technologies that were first used in Vietnam and inexperience from parties involved in the project; difficulties in fulfilling obligations from donors and financing agreements; and issues related to the site clearance process.
Once completed, the metro line would have eight trains operating at the same time at an average speed of 35 kilometers per hour./.