More than 12,000 people get jobs in November 2022
December 06, 2022 8:54 PM GMT+7
VGP - According to the Ha Noi Department of Labor, Invalids and Social Affairs, the city promoted solutions to develop the labor market towards flexibility, modernity, sustainability and integration in November.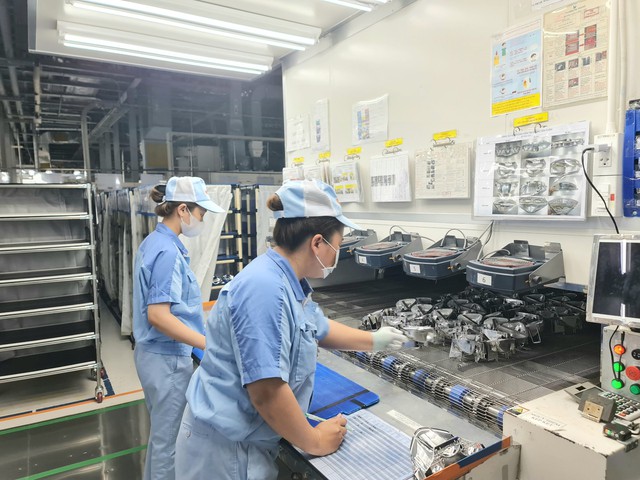 In November 2022, more than 12.4 thousand workers were offered jobs. The city entrusts the Bank for Social Policies to lend to the poor and social policy beneficiaries with a total amount of VND86.3 billion, helping create jobs for 1,658 workers.
There were 1,654 people getting jobs after interviewing at job sessions. Additionally, there were 9.1 thousand people who have been provided with jobs through labor export, employment service provision of enterprises and other forms.
Also, in November, Ha Noi decided to subsidize unemployment insurance benefits for over 6,000 people with a support amount of VND165 billion and job counselling for 5.9 thousand people.
In the first 11 months of 2022, the city created jobs for 195 thousand workers, reaching 122.1 percent of the year plan; provided unemployment insurance for nearly 64.8 thousand people, job counselling for 65.5 thousand people and vocational training support for 1.5 thousand people.
Mr Vu Quang Thanh - Deputy Director of Ha Noi Employment Service Center, said that at the end of the year, the unit would strengthen the connection between job sessions with localities to increase job opportunities for workers.
In 2022, Ha Noi aimed to create jobs for 160,000 workers, reducing the unemployment rate in urban areas to less than 4 percent, and the rate of trained workers to reach 72.2 percent.
To ensure the set targets, the Ha Noi Department of Labour, Invalids and Social Affairs closely coordinated with the city and local departments and agencies and directed relevant units to research, forecast and evaluate the current labor market situation and future development trends./.