Industrial production remains positive
December 01, 2022 3:10 PM GMT+7
VGP - Industrial production activities throughout Ha Noi maintained positive growth momentum as enterprises focused on producing goods to serve the increasing consumption demand in the last months of 2022 and the Tet holiday.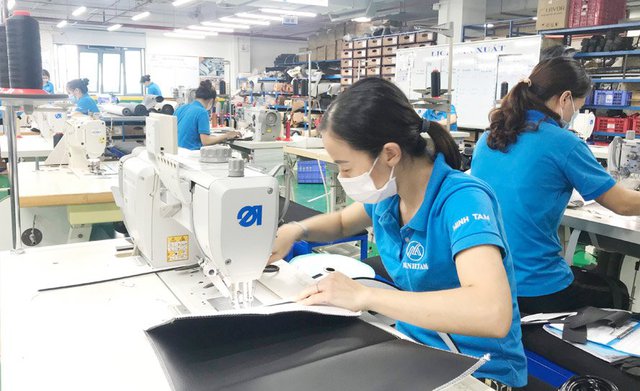 Precisely, November's Index of Industrial Production (IIP) was estimated to increase by 1.3 percent over the previous month and by 9.2 percent over the same period last year. In the first 11 months of 2022, the IIP index grew by 8.7 percent over the same period the previous year.
In the first 11 months of 2022, several industries with the IIP index recorded a high increase compared to last year, such as prefabricated metal products growing by 19 percent and beverage production - 17.7 percent, to name but a few.
However, some sectors of the IIP index decreased over the same period, such as machinery and equipment manufacturing, which fell by 11.7 percent; rubber and plastic - 2.1 percent; and the production of leather and related products - 1.7 percent.
Laborers working in industrial enterprises at the end of November were estimated to increase by 0.8 percent compared to the end of last month and 1.4 percent over the same period the previous year.
In the first 11 months of 2022, the labor utilization index of industrial enterprises was equivalent to the same period last year.
In which, laborers working in the processing and manufacturing industry decreased by 1.1 percent; the water supply and waste and wastewater treatment industry increased by 23.7 percent; electricity and gas production and distribution by 0.2 percent; and the mining industry decreased by 2.9 percent.
Some industries have high employment rates, such as motor vehicle production rising by 10.4 percent; repair, maintenance and installation of machinery and equipment - 14.4 percent; or collecting, treating waste, and recycling scrap - 87.7 percent.
Up to now, the COVID-19 epidemic in Ha Noi has been controlled, stimulating industrial production to be vibrant again.
Besides the business community's efforts in promoting production and business activities, the city, departments, branches and local governments also tried their best to help businesses regain the momentum of industrial production growth since the beginning of 2022./.