Capital spends US$ 1 billion for Ring road No.4 project
May 24, 2022 10:33 AM GMT+7
VGP - The Ha Noi municipal People's Council approved a resolution on allocating VND23.5 trillion (US$1 billion) for the Ring road No.4 project.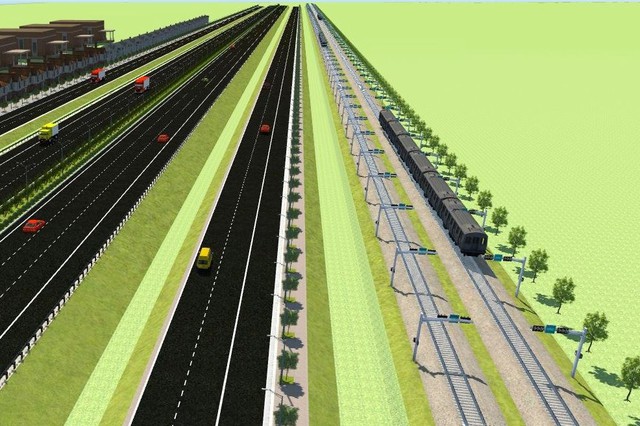 The project is of national priority and would be proceeded under the public-private partnership (PPP) financing mechanism.
Under the proposal, Ring road No.4 has a total length of 112.8 kilometers, connecting 14 districts from three northern cities/provinces, including Ha Noi, Hung Yen, and Bac Ninh, and is scheduled to complete by 2027.
The project comprises seven sub-components, with the first three of site clearance in Ha Noi, Bac Ninh, and Hung Yen; three others of constructing roads in three localities; and one highway under the PPP mechanism.
The total investment capital of the Ring road No.4 is estimated at VND85.8 trillion (US$3.73 billion), of which over VND23.5 trillion ($1 billion) is sourced from Ha Noi's budget.
Around VND19.4 trillion is expected to be disbursed during the 2021-2025 period, and the remaining VND4.04 trillion between 2026-2030.
With the launch of the project now pending the approval of the National Assembly, Chairman of the municipal People's Council Nguyen Ngoc Tuan requested the city's authorities to ensure the investment procedures being completed and submitted to the National Assembly in its third session, scheduled to take place between May 23 and June 17.
Ring road No.4 is expected to help bolster inter-provincial linkage between Ha Noi and neighboring cities/provinces, reduce pressure on the downtown area by creating a new traffic axis for inter-provincial circulation.
It would open up new spaces for development, especially in Ha Noi's satellite urban areas of Soc Son, Son Tay, Hoa Lac, Xuan Mai, and Phu Xuyen, and industrial parks in the two neighboring provinces of Hung Yen and Bac Ninh./.