Capital stays vigilant against emergence of new Covid-19 variants
January 15, 2023 5:04 PM GMT+7
VGP - Ha Noi authorities have rolled out tasks and measures for Covid-19 prevention in 2023, focusing on strengthening quarantine at Noi Bai International Airport.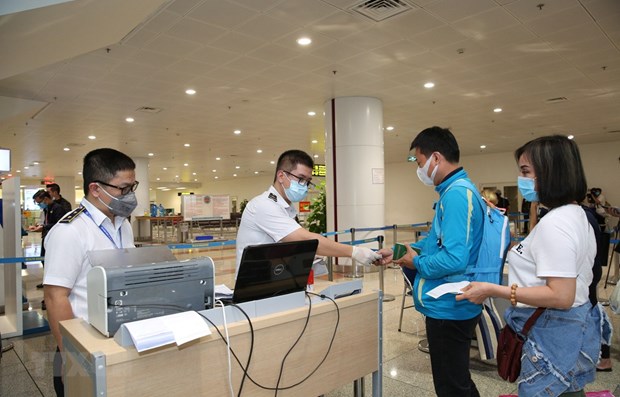 This is part of the city's plan respond to new variants of SARS-CoV-2 in the capital, including the latest variant of XBB.1.5.
The plan aims to prevent new Covid-19 variants from entering Ha Noi, detect XBB.1.5 variant in the city at the earliest, and minimize the impact of the disease on the health and socio-economic activities of the population.
From that perspective, authorities will focus on strengthening quarantine at Noi Bai International Airport; fostering surveillance and early detection of suspected cases of XBB.1.5 variant in residential areas, offices, factories, and enterprises.
The city will update relevant information and keep a close watch on the variant's evolution in the world; fully and promptly administering booster doses of Covid-19 vaccines in line with the health ministry's guidance.
The municipal Health Department is in charge of instructing relevant units to conduct pandemic prevention and control and supporting districts to synchronously and effectively implement Covid-19 prevention and control activities. It also coordinates with local authorities to administer booster shots of Covid-19 vaccines for high-risk groups in accordance with the health ministry's guidance.
The COVID-19 situation in the world remains complicated but the pandemic has been brought under control in Viet Nam.
The number of coronavirus-infected patients has decreased dramatically from early March 2022 until now thanks to fast vaccination campaigns.
Earlier, Prime Minister Pham Minh Chinh requested ministers, heads of ministerial-level and State agencies, and chairmen of People's Committees of centrally-run cities and provinces to strengthen measures to prevent the spreading of COVID-19 during the upcoming Lunar New Year (Tet) Festival and the festive season of 2023./.