Viet Nam-France decentralized cooperation conference closed
April 16, 2023 8:51 AM GMT+7
VGP - Under the theme: "The driving force for sustainable and comprehensive recovery and development after the COVID-19 pandemic," the 12th Viet Nam-France cooperation conference wrapped up successfully in Ha Noi on April 15.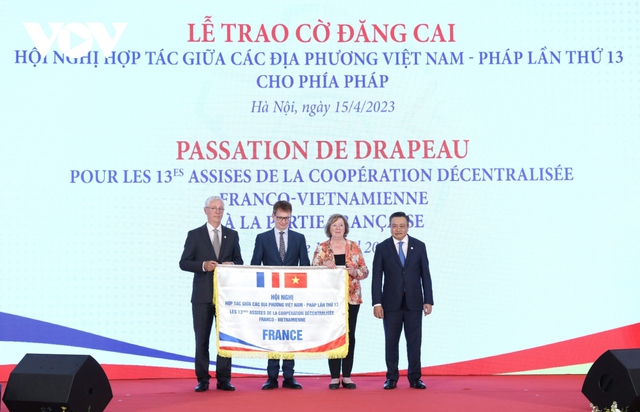 The conference is part of a series of events to mark the 50th founding anniversary of diplomatic relations and the 10th anniversary of their strategic partnership between Viet Nam and France.
This year's showed the role and prestige of this cooperation mechanism with the participation of 50 localities of Viet Nam and 12 localities of France, and many state and private organizations of the two sides.
Addressing the closing ceremony, Chairman of the Ha Noi People's Committee Tran Sy Thanh affirmed that after the three-day conference, both sides would continue discussions and exchanges to materialize the conference's goals of creating new connections, new partners, and new successes.
The signing ceremony of cooperation agreement between Ha Noi and Toulouse, Ha Noi, April 15, 2023 - Photo: VOV
Top priorities
The joint statement issued at the conference pointed out that environmental and climate changes are caused by human activities, reaffirming the determination to cooperate, based on the potential of experience exchanges in sustainable development, especially effective water management.
Participants at the conference agreed that environmental protection is a solid basis for sustainable socio-economic development.
There is a need to quickly adapt to digital transformation, which is now becoming a big challenge for socio-economic transformation, affirming that the cooperation between Vietnamese and French localities can offer new effective actions and solutions to successfully lead the transformation, through sharing common perceptions, policies, and experiences of success and failure in the development of a digital ecosystem, digital economy, digital society, and smart city.
In this process, the priority is to improve the quality of public services and the business environment.
Challenges of urbanization for the sustainable development of cities and people's lives give people no choice but to develop sustainably.
According to the joint statement, through discussions on forms of heritage conservation, cultural promotion, and tourism development, the localities of Viet Nam and France, with diversity and richness in culture and heritage, have common interests and strengthen cooperation in formulating strategies for socio-economic development, green growth, and cultural industries associated with the conservation of tangible and intangible heritage.
The local-level cooperation is essential and indispensable for achieving the Sustainable Development Goals under the 2030 Agenda.
On this occasion, localities including Ha Noi and Toulouse, Yen Bai and Val-de-Marne; Thua Thien - Hue and Grand Poitiers signed cooperation agreements./.