Tourism Ao Dai Festival 2022 attracts over 30,000 visitors
December 06, 2022 9:00 PM GMT+7
VGP - More than 30,000 international and domestic guests took part in the Ha Noi Tourism Ao Dai Festival 2022, which helps to promote tourism, preserve, honor, and exploit the potential values of Ao Dai (traditional long dress).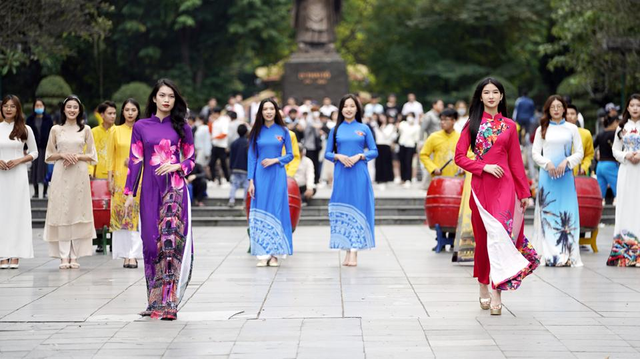 Director of the Ha Noi Department of Tourism Dang Huong Giang released the above figure at the closing ceremony of the Ha Noi Ao Dai Tourism Festival on December 4 in Ha Noi.
That the festival achieved great success by organizing eight vibrant and exciting activities, including the Ao Dai Tourism Music Festival, a Creative Ao Dai design contest for students, five exhibition spaces, miniatures, and 50 booths introducing products of Ao dai artisan and designers, travel businesses, hotels, and aviation firms.
Nearly 1,000 people got involved in the vibrant co-show and parade of Ao Dai organized by the Ha Noi Women's Union. Moreover, the street Ao Dai co-show of 300 businesswomen and 200 children attracted many people, according to the Director.
"Thanks to the Ao Dai, the festival conveyed the message of Ha Noi as a safety-friendly-quality-attractive symbolism," Giang said.
Ha Noi will continue to host the Ao Dai Tourism Festival in the coming times. Hence, she stressed that it contributes to making Ao Dai become the tourism ambassador of Ha Noi and the whole country.
Within the framework of the closing ceremony, the Ha Noi Department of Tourism also organized an award ceremony of two contests, namely "Designing Ha Noi tourism gifts 2022" and "Beautiful photos of Ha Noi tourism 2022."