State President offers incense at Kinh Thien Palace
January 14, 2023 9:50 AM GMT+7
VGP - State President Nguyen Xuan Phuc and overseas Vietnamese attending the Homeland Spring 2023 program offered incense at Kinh Thien Palace in the Thang Long Imperial Citadel in Ha Noi on January 14.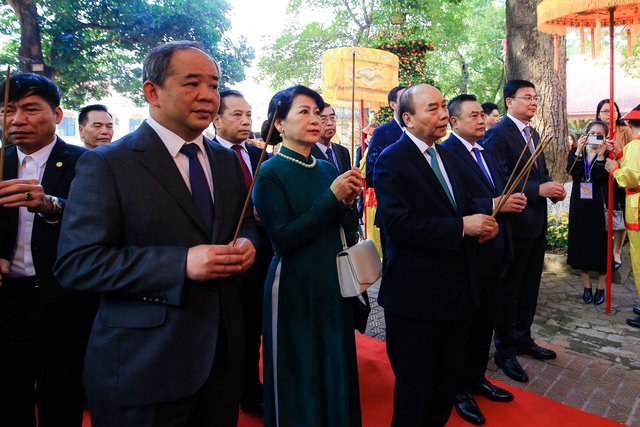 The incense offering ceremony has become a tradition of the Homeland Spring, showing affection and love of Vietnamese people around the world toward their country.
At the ceremony, State President Nguyen Xuan Phuc, his wife, and representatives of more than 5 million overseas Vietnamese paid tribute to the ancestors and those who contributed to the country's construction and defense for thousands of years, as well as to the country's peace and future prosperity.
On the same day, at the archaeological relic of the Imperial Citadel of Thang Long, located at No. 18 Hoang Dieu, delegates released the golden carp into the lotus pond here, considered a traditional ritual usually held a week before the official start of the Lunar New Year, or Tet.
Also, on the morning of January 14, the delegation of overseas Vietnamese attending the Fatherland Spring visited the Mausoleum of President Ho Chi Minh; laid a wreath at the Monument to Heroes and Martyrs on Bac Son Street in Ha Noi.
On the evening of January 14, President Nguyen Xuan Phuc joined representatives of overseas Vietnamese from around the world to attend the "Homeland Spring 2023" with the theme "Country of Beliefs and Aspirations".
The program drew the attendance of over 3,000 delegates and was broadcast live on Vietnamese Television. It has been the largest foreign and cultural event held for overseas Vietnamese on the occasion of the Lunar New Year festival since 2008.
The Kinh Thien Palace is considered as the most important architecture of the Imperial Citadel between the 15th and 18th centuries in which the most solemn national ceremonies were held./.