State and Ha Noi leaders commemorate Heroes and Martyrs
July 27, 2022 9:22 AM GMT+7
VGP - A delegation of the Party, State, Government, National Assembly (NA), and Viet Nam Fatherland Front (VFF) and Ha Noi leaders on July 27 paid tribute to Heroes and Martyrs on the occasion of the 75th anniversary of War Invalids and Martyrs' Day [July 27, 1947 - 2022].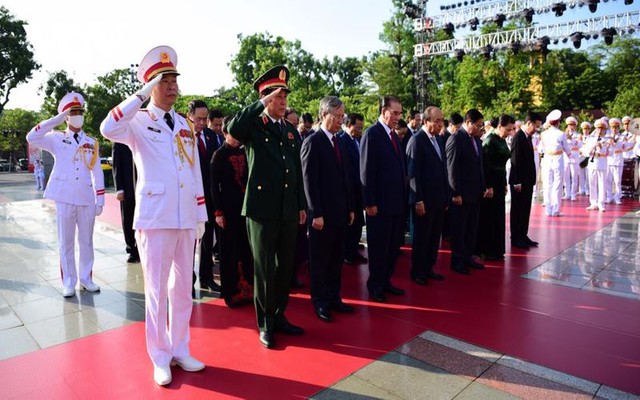 President Nguyen Xuan Phuc and Prime Minister Pham Minh Chinh headed the delegation. Former General Secretary Nong Duc Manh and former Chairwoman of the National Assembly Nguyen Thi Kim Ngan also attended the memorial ceremony.
Leaders laid wreaths and offered incense in tribute to fallen combatants at the Monument for Heroic Martyrs on Bac Son Street to commemorate national heroes who sacrificed their lives for the country's liberation and the people's happiness.
The leaders expressed their deep gratitude for the great sacrifice of the heroic martyrs to the nation's glorious revolutionary cause and national freedom.
The leaders later also paid tribute to the late President Ho Chi Minh at his mausoleum.
They expressed their gratefulness to President Ho Chi Minh, who devoted his entire life to the revolutionary cause of the Party and the nation while stressing their commitment to follow the pathway that President Ho Chi Minh has chosen to lead the country towards prosperity.
The delegates recalled the great contributions that the late leader made to the revolutionary cause of the Party and nation.
President Ho Chi Minh was a talented leader, a national hero who devoted all his life to the struggle for national independence, freedom, and happiness of the people while tirelessly striving for peace and progress in the world.
On this occasion, an exhibition is also being held at Viet Nam Culture and Art Exhibition Centre at No.2 Hoa Lu Street in Ha Noi on July 27 to mark the 75th anniversary of War Invalids and Martyrs Day./.