Second DPRK-USA Summit, no agreement reached
February 28, 2019 4:00 PM GMT+7
VGP - The second summit between US President Donald Trump and leader of the Democratic People's Republic of Korea (DPRK) Kim Jong-un ended without any joint statement being issued, according to the White House.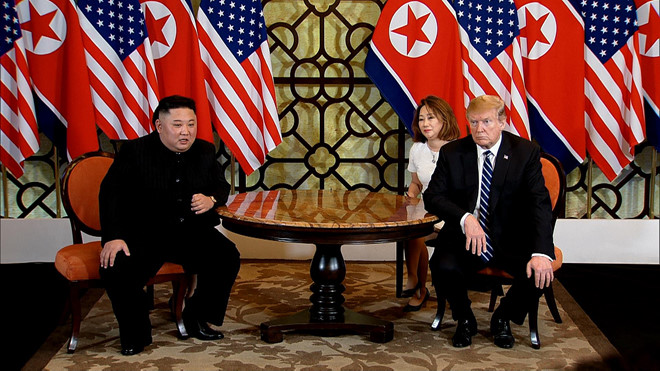 The two leaders at the Sofitel Legend Metropole hotel in Ha Noi on Thursday morning.
The office further said the subsequent meetings between the two leaders will take place in the future, according to the White House.
DPRK leader Kim Jong Un and US President Donald Trump continued second day of talks at Sofitel Legend Metropole hotel in Ha Noi amid tightened security. Talks started at 9am.
According to DPRK national news agency (KCNA), leader Kim Jong Un had a meeting, one-on-one chat and dinner with US President Donald Trump yesterday.
The historic second DPRK-U.S. summit and talks began in Ha Noi, Viet Nam thanks to the ardent wishes, active efforts and extraordinary determination of the top leaders of the DPRK and the USA to end the evil cycle of confrontation and antagonism and keep pace with the era of peace and prosperity that has newly arrived.
said that mistrust, misunderstanding, hostility and old practices tried to stop our ways but we broke and overcame all of them and again walked towards each other to finally reach Ha Noi in 260 days. He added that this period required lots of deep thinking, efforts and patience than ever before and that excellent results wished by all will be made in the talks and he would do his best to this end, KCNA reported.
President Trump said that he was honored and happy to meet Chairman again and that he was sure that the talks would be very successful, noting they had very nice relations with each other.
Then they had one-on-one pleasant chat to have a candid and honest dialogue, according to KCNA./.