Over 5.4 million voters cast ballots in general election
May 23, 2021 5:00 PM GMT+7
VGP - Over 5.4 million citizens in Ha Noi started casting ballots in the elections for deputies of the 15th National Assembly and all-level People's Councils for the 2021-2026 period across 4,825 constituencies in 30 districts on May23.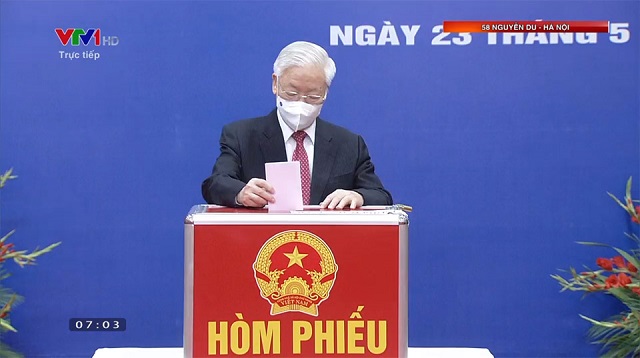 General Secretary of the Communist Party of Vietnam Nguyen Phu Trong casts his ballot at the polling station No.4 in Nguyen Du ward, Hai Ba Trung district.
After having cast his ballot, Secretary of the Ha Noi Party Committee Dinh Tien Dung sent his message to the locals.
"I am delighted to see people in Ha Noi turning out to vote from the early in the morning, which shows their sense of responsibility and role in the election day – a festive occasion for the country. Moreover, Hanoi's voters have also been aware of COVID-19 countermeasures."
I call for everyone to vote as each ballot has a great meaning. We are selecting the representatives for the highest organ of State power, which is the National Assembly, and locality-level legislative bodies, namely the people's councils.
Every vote, therefore, would contribute to the construction of a socialist country of the people, by the people, and for the people.
I am strongly believed that Ha Noi's voters with responsibilities and the pride of people living in the capital city would wisely choose the worthy candidates to represent their community, in turn contributing to the success of the elections in Ha Noi."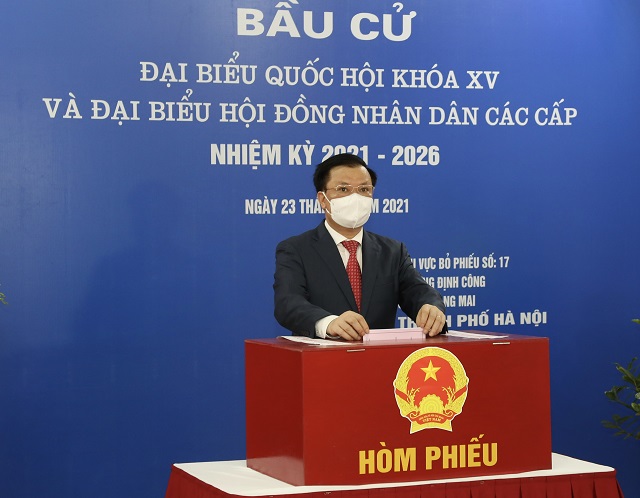 Secretary of the Ha Noi Party Committee Dinh Tien Dung casts his vote at the polling station No.17 (Dinh Cong ward, Hoang Mai district).