Nearly 600 new OCOP products recognized
July 28, 2022 9:24 AM GMT+7
VGP – As many as 595 products of Ha Noi have met criteria of the One Commune, One Product (OCOP) program.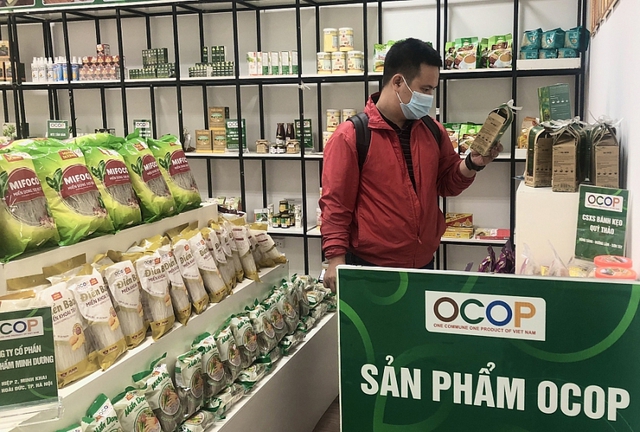 The 595 new OCOP products are from 171 producers in 26 districts and towns across the city. Of those, 367 were rated four stars and 228 others rated three stars.
So far, Ha Noi has recognized 1,649 OCOP products, including four products rated five stars, 1,098 others rated four stars, and 534 rated three stars. It is taking the lead nationwide in terms of the numbers of OPOP products and five-star OCOP products.
Ha Noi's OCOP products are now displayed in an exhibition area of Royal City Mall.
By 2025, Ha Noi looks to have an additional 2,000 OCOP products rated at least three stars, all communes that meet advanced criteria of the new-style rural area building program having OCOP products, and at least 70% of OCOP product makers being cooperatives, cooperative groups and businesses.
The OCOP program was initiated by the Ministry of Agriculture and Rural Development in 2008, based on Japan's "One Village, One Product" and Thailand's "One Tampon, One Product" programs.
It is an economic development program for rural areas and also to help implement the national target program on new-style rural area building.
OCOP products are made basing on the combination of local resources, traditional culture, and advanced technology, thus promoting product diversification, quality, packaging, and origin traceability.
The program has provided farmers with the chance to come together to form cooperatives, which in turn have enabled farmers to create goods with better quality, design, and packaging that meet higher standards and match market demand./.