Int'l piano competition to be held
VGP - The 3rd Ha Noi International Piano Competition will kick off on September 4 at the Viet Nam National Academy of Music (VNAM), as heard at a press conference held in Ha Noi on August 31.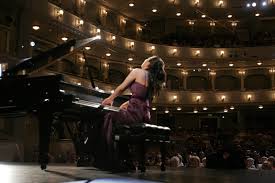 Illustration photo
The event with the participation of 55 contestants from nine countries and territories including Viet Nam, China, Taiwan (China), Singapore, Thailand, Indonesia, Ukraine, Japan and the Republic of Korea (RoK).

Contestants, categorized in groups from 10 to 13, 14-17, and 18-25 years old performed in two individual rounds playing a concerto with the orchestra in the final round.
The winner will receive a cash prize of VND200 million (US$49,150).
Members of the jury are seven renowned pianists from Finland, France, Japan, the RoK, the US, Austria, and Viet Nam.
Many of them have received numerous international prizes.
The closing ceremony and a Gala night featuring the best performances will be held on September 11.
By Vien Nhu