India-VN direct route to be launched
September 18, 2014 4:40 PM GMT+7
VGP - A codeshare pact with Jet Airways of India for jointly sharing passengers to provide them seamless connections on direct flights from Viet Nam to India, easily facilitating one-stop ticketing and baggage check-in, according to the Viet Nam Airlines.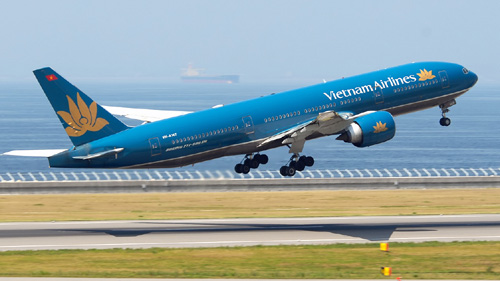 The Memorandum of Understanding was signed in Ha Noi on September 15 by Pham Ngoc Minh, General Director of Viet Nam Airlines Corporation and Naresh Goyal, Chairman of Jet Airways-India's premier airline within the framework of the current state-level visit of Indian President Pranab Mukherjee to Viet Nam.

Under the agreement, Viet Nam Airlines will team up with its Indian partner on flights Singapore – Mumbai/Delhi/Chennai, Bangkok/Hong Kong – Mumbai/Delhi and Jet Airways' newly launched Delhi – Ho Chi Minh City via Bangkok.

In turn, Jet Airways will share Viet Nam Airlines' flights between Singapore/Bangkok/Hong Kong – Ha Noi/Ho Chi Minh City and Viet Nam Airlines' newly launched Singapore – Phu Quoc (Viet Nam).

Both companies also agreed to work closely to promote their aviation markets in a preparation for the launch of the new direct air route between Viet Nam and India.

Jet Airways operates one of the youngest fleets in the world, with flights to 75 destinations spanning the length and breadth of India and beyond.
By Ngoc Van