Hoan Kiem giant turtle in Dong Mo Lake dies
April 24, 2023 7:58 PM GMT+7
VGP - Hoan Kiem giant turtle, also known as the rare Rafetus swinhoei, in Dong Mo Lake in Son Tay District, was found dead on April 23 by the lake's keepers.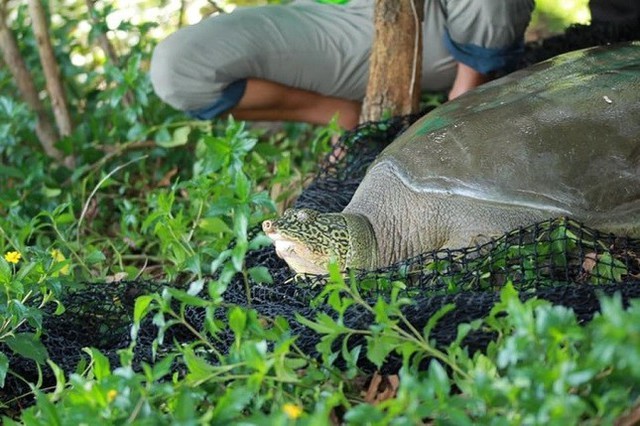 The turtle is of the same species as the rare one found in Hoan Kiem Lake in central Ha Noi.

It was one of only three of its kind left in the world, with one survivor in Ha Noi's Xuan Khanh Lake in Ba Vi District and another in China. With its death, hope for the recovery of the world's rarest turtle species is fading.
The soft-shell turtle weighs 93 kg and measures nearly 156 cm in length, the expert said, adding that it could be the turtle discovered in Dong Mo Lake in late 2020.
Ta Van Son, director of the Ha Noi Department of Fisheries, said a group of researchers discovered the turtle in Dong Mo Lake on October 22, 2020.
"At that time, experts from the Viet Nam Academy of Science and Technology and Vietnam National University Ha Noi analyzed its DNA and concluded that it belonged to the Rafetus swinhoei species. The scientists weighed, measured, and took samples for genetic testing and released the animal back into the lake," Son added.
A city conservation plan for the Hoan Kiem turtle for the period 2021-25 aims to identify a suitable environment for breeding the reptiles, and there will be programs for their conservation and reproduction, Son said.
The turtle species, named after Ha Noi's Hoan Kiem Lake, where the only turtle of its kind lived, is listed as critically endangered by the International Union for Conservation of Nature and is also on the list of rare and endangered animals requiring urgent conservation efforts under a 2013 decree by the Vietnamese government. The Hoan Kiem Lake turtle died in 2016.
The Dong Mo Lake turtle was first discovered by conservationists from the Asian Turtle Program in 2007. In 2008, during the historic floods in Ha Noi, it emerged from the lake and was captured by residents. Thanks to authorities and conservationists, it was returned to the lake and is being monitored to this day.
The creature was first described in 1873, but there has been very little research on this giant soft-shell turtle. The species once inhabited most of the Red River Delta but was hunted to near extinction in the 1970s and 1980s./.