HN records surge of critically ill COVID-19 patients
VGP – Ha Noi has seen a sharp increase of 57% in the number of critically ill patients against the previous week.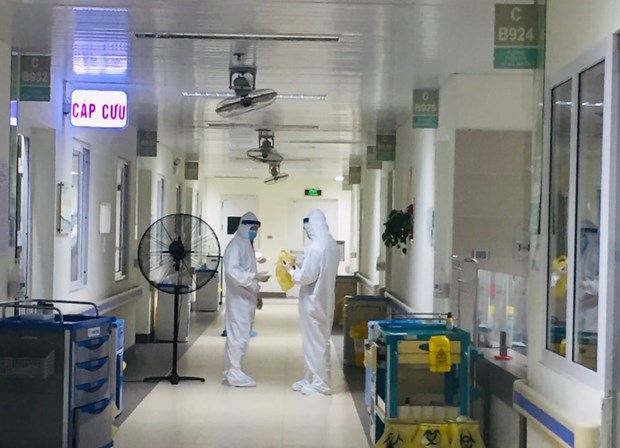 Illustration photo
Statistics showed that since November 10, 14,405 cases of local infections have been detected in the capital with an average daily figure of 232 cases, in which 5,370 cases were found in the community.
Particularly, since December 26, 5,300 local infections were recorded with an average daily figure of 750 cases.
As of late December 12, the city housed 9,017 COVID-19 patients of which 6,084 were admitted to hospitals, 2,495 others with asymptomatic and mild COVID-19 are treated by mobile medical stations, and 438 others stayed at home.
Specifically, 257 patients were admitted to the National Hospital for Tropical Diseases in Kim Chung commune and the Ha Noi Medical University Hospital. Meanwhile, 1,963 other patients were warded at 28 local hospitals. Up to 3,864 patients are treated in other medical facilities, including the Phenikaa Dormitory Facility (540 patients), Temple Lu III treatment facility (882 patients), Thuong Thanh treatment facility (718 patients), and Phap Van – Tu Hiep treatment facility (1,762 patients).
Initial statistics showed that as of December 12, a majority of COVID-19 patients in Ha Noi displayed asymptomatic and mild symptoms. However, the number of serious and critically ill patients has been on the rise over the past week.
Particularly, 1,100 patients are struggling with medium symptoms (up 27% against the previous week). Up to 124 patients are critically ill of which nine patients required invasive mechanical ventilations. In Ha Noi, fatality rate is 0.3%.
The Ministry of Health agreed with Ha Noi's proposal to use antigen rapid test results to determine recovery and discharge for mild COVID-19 cases./.
By Khanh Phuong