HN: Only students in Ba Vi District resume physical study from Nov. 8
VGP - The Ha Noi People's Committee has decided to reopen schools in the outskirt district of Ba Vi from November 8, according to the latest document signed by Vice Chairman of the municipal People's Committee Chu Xuan Dung on November 6.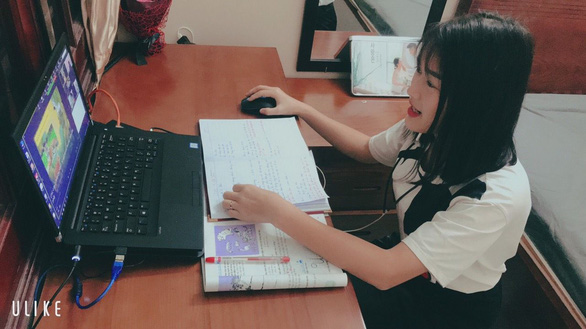 A majority of learners in Ha Noi stick to the online learning program from November 8, 2021 - Illustration photo
Ba Vi is the only district which has not recorded any COVID-19 cases in the community in the past 14 days. Thus, the fifth, sixth, ninth, tenth, and 12th graders in low- and medium-risk areas in the district are allowed to back to schools.
Students in other grades in the district, and all students in 29 other districts of Ha Noi will stick to the online learning program. All kindergarten schools will remain closed.
Earlier, on November 1, the Ha Noi municipal People's Committee agreed to resume physical studies for students of grades 5, 6, 9, 10, and 12 living in 18 pandemic-free areas (labeled "green zones") from November 8. However, the plan was postponed as the evolution of the Covid-19 pandemic in Ha Noi is more serious.
Ha Noi has continuously recorded a sharp increase in the number of COVID-19 cases, up to over 60 community cases per day, linked to the gathering of people in the districts of Quoc Oai, Me Linh, Gia Lam, Hoai Duc, Soc Son, Dong Anh, Thuong Tin, Bac Tu Liem, Hoang Mai, Dong Da, Ba Dinh and, most recently, Cau Giay District.
On October 29, the Ha Noi Department of Education and Training issued a set of 16 criteria to assess the level of safety against COVID-19 at schools and facilities that meet only seven or fewer criteria will have to close.
Besides, only teachers fully vaccinated against coronavirus will be eligible for face-to-face teaching, whereas others must continue running online classes, according to the local education authorities' regulations.
Currently, 62% of administrative officers, teachers, and school staff in Ha Noi have received two injections while more than 98% have got the first shots.
The local authorities also plan to vaccinate over 95% of local children aged 12 to 17 in the remaining months of this year and the first quarter of 2022, with those from 16 to 17 years old getting the shots first.
Schools in Ha Noi have been closed since May 4 when the fourth wave of COVID-19 resurgence broke out./.
By Kim Anh