HN names 13 priority groups for Covid-19 vaccination campaign
VGP – The Ha Noi municipal People's Committee on July 21 decided to give vaccination priorities to 13 groups of people.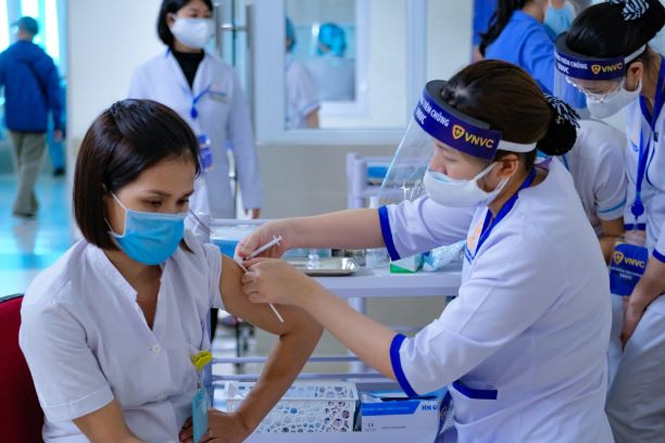 Illustration photo
The decision was made in accordance with the Government's Resolution 21/NQ-CP, dated February 26, 2021 on purchase and use of Covid-19 vaccines and reflects the city's move to expand vaccine coverage in an accurate and transparent manner.
It also follows the Health Ministry's Decision 2995/QD-BYT, dated June 18, 2021 providing provisional instructions on COVID-19 pre-vaccination screening.
These prioritized groups are:
1. Disease prevention frontline workers including medical workers, those who participate in Covid- 19 prevention and control work (members of steering committees on COVID-19 prevention and control, staff working in quarantine camps, volunteers, reporters), military and police forces.
2. Vietnamese diplomats and their relatives; people working in diplomatic missions, customs and immigration officers.
3. People working in agencies actively engaging in disease prevention activities, and disease prevention units.
4. Those working to maintain the supply of essential services such as aviation, transportation, tourism, electricity and water supply, bank, treasury, post, telecom, export, import, accommodation, restaurants.
5. Teachers, staff at educational and training sites, people who work in administrative agencies frequently communicate with customers.
6. People who are sent by a competent authority to study or work abroad or others who wish to go abroad to study or work.
7. Factory workers at industrial parks, processing zones.
8. People with chronic diseases, over 65-year-old people, the poor, and people of social beneficiaries.
9. Residents in pandemic-hit areas
10. Religious dignitaries
11. People who have frequent contact with many people including freelance workers, taxi drivers, motorbike drivers, porters, street vendors
12. People working in prisons and prisoners
13. Others in line with disease prevention requirements
Ready to vaccinate local residents
Ha Noi is ready for a large-scale vaccination campaign throughout the city, targeting to administer 200,000 injections per day, said Chairman of the municipal People's Committee Chu Ngoc Anh on July 21.
The capital city has stepped up preparations for this campaign with various scenarios and methods, ensuring the earliest, fastest and safest deployment as soon as it receives vaccines from the Government.
The city is able to receive a maximum of 1.3 million doses of AstraZeneca vaccine.
The health department was asked to work out its receiving capacity corresponding to various types of vaccines, including vaccines that require complicated storage conditions such as Pfizer (stored at -74 degrees Celsius) and set up a plan for the transportation and distribution of vaccines to vaccination facilities to ensure safety, quality and timeliness.
According to Director of the Hanoi Department of Health Tran Thi Nhi Ha, Ha Noi has a population of 8.3 million, but just about 2% of them have been vaccinated.
About 600,000 people from other provinces and cities, who are studying and living in the city, will also get vaccinated. They include taxi drivers, street vendors, and porters who will pose high risks of transmission if they catch Covid-19./.
By Kim Anh