Ha Noi proposes to promote decentralization for speeding up public investment
February 26, 2023 2:18 PM GMT+7
VGP – Chairman of the Ha Noi People's Committee Tran Sy Thanh said that Ha Noi issued Plan 91 at the National Online Conference on accelerating the disbursement of public investment capital in 2023 and implementing the socio-economic recovery and development program.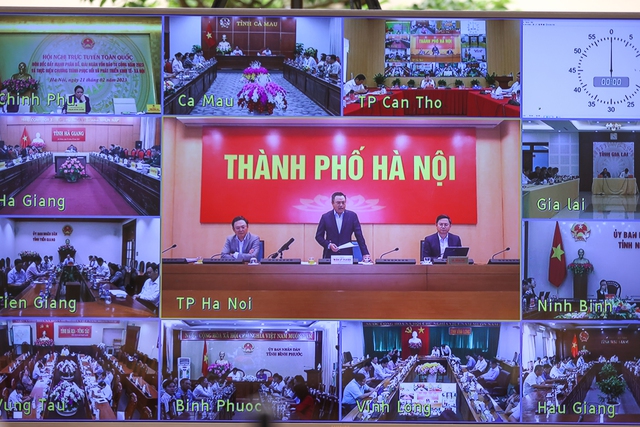 Until now, Ha Noi has supported 2.6 million turns of subjects and people facing difficulties after the COVID-19 epidemic with VND2,661 billion; completed the support to pay rent for 420,000 employees of 13,000 enterprises with the amount of VND220 billion.
Regarding support for production and business in terms of fee exemption and reduction, 85,000 turns of businesses received VAT reduction of the amount of VND19,400 billion.
Besides, more than 18,000 businesses have been granted an extension to pay corporate income tax, personal income and VAT with a total of VND20,000 billion.
Implementing the new direction of the Prime Minister on land tax reduction in 2022, Ha Noi has guided 100 percent of subjects on a 30 percent reduction of land tax.
Regarding the disbursement of public investment in 2022, by January 31, 2023, Ha Noi has disbursed more than VND45,000 billion VND (87.8 percent). This is an excellent effort for the city.
Regarding problems, there are many technical difficulties, project processes, and decentralization. The city expects a Resolution of the Government and the National Assembly to decentralize powers to the locality.
In 2023, Ha Noi immediately allocated nearly VND47,000 billion of public investment capital and assigned primary responsibilities. By the end of February 2023, Ha Noi has also disbursed more than VND3,600 billion (5.5 percent of the plan in 2023).
Regarding Ha Noi has 250,000 billion of public investment capital in this term. With this amount, Ha Noi only allocates 5-7 works that have run out of this money but also have to do it for at least two terms.
This is the story that the tenure affects the allocation of public investment capital that the People's Council cannot remove. It is illegal to remove it./.