Ha Noi, Laos promote cooperation in all fields
February 17, 2023 3:33 PM GMT+7
VGP - The capital city prioritizes improving its relations with Laos' municipal authorities, particularly Vientiane, said Secretary of the Ha Noi Party Committee Dinh Tien Dung.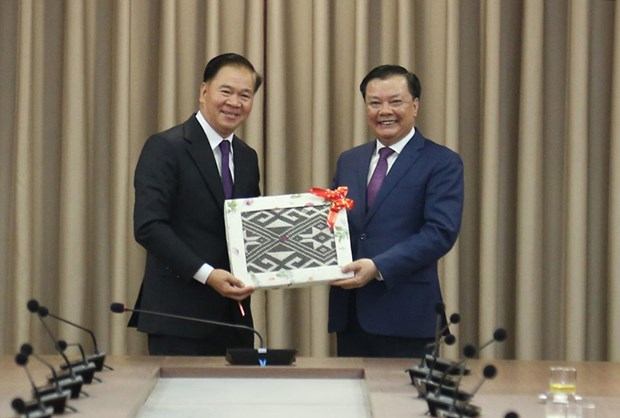 The Secretary made the point on February 17 in Ha Noi at a meeting with Secretary of the Lao People's Revolutionary Party (LPRP) Central Committee Thongsalith Mangnomek.
Thongsalith Mangnomek, who is also Chief of the LPRP Central Committee's Office, said the Laotian authorities will study the lessons that Hanoi gained to drive its socio-economic growth in the post-pandemic period.
Thongsalith said that he expects the lessons will help the Government of Laos and local authorities achieve rapid economic growth and improve living conditions for the people.
At the meeting, Thongsalith said that his visit aims to share experiences between the two offices of the Party Central Committees and sign a cooperation agreement between them.
Ha Noi Party chief Dinh Tien Dung shared six lessons Ha Noi learned during the difficult time.
He said that the municipal authorities consistently followed the central Party and the State's directions and mobilized all resources to execute development plans.
"We tried to exploit the resources efficiently, arrange appropriate tasks for the proper officials, encourage the officials to stay righteous all the time," Dung added.
The city's authorities also enhance inspections to boost the system's performance and gain local people's trust, he said.
Dung reported that Ha Noi earned outstanding results in its socioeconomic development, fulfilled all 22 indicators, with five exceeding the plan, and recorded an 8.89% gross regional domestic product (GRDP) growth rate.
"The rate was Ha Noi's highest result in 10 years and higher than the nation's average of 8.02 percent," said Dung.
Ha Noi also performed well in supporting enterprises to recover after the pandemic and implemented social policies in time to benefit the people."
The capital city's Party Committee also strengthened and reformed its political regime to boost the morale among all municipal and local units, thus creating momentum to accomplish the assignments, Dung said.
He also praised that bilateral relations have made substantial progress recently, with practical projects in healthcare, education and training, agriculture, military, and people exchange./.