Hà Nội centers on projects to welcome its millennium
VGP – To celebrate its 1000th anniversary, Hà Nội will complete 47 commemorative works, including 35 ones to be finished by 2010.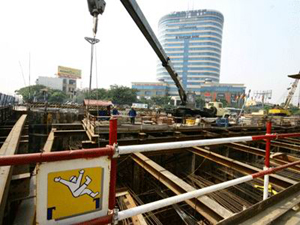 The Kim Liên Intersection – A project to welcome the millennium of Thăng Long-Hà Nội
The city vows to mobilize all resources for the completion of the projects approved by the PM.
The municipal government will hold regular working sessions to supervise the schedule and timely remove any obstacles.
The information work on Hà Nội's grand anniversary will be promoted.
As part of its plan to celebrate the millennium, over the past time, Hà Nội has constructed the website "The 1000-year civilization of Thăng Long" and set up a file on the Temple of Literature's doctoral steles as a nominate for the Memory of the World Program.
Việt Nam's capital city also intends to organize the Hà Nội Day at the headquarters of UNESCO in Paris and prepare for the founding of the international club of 1000-year-old capital cities.
The city has entered some joint programs with other localities throughout the country to celebrate the millennium.
A detailed scenario for the 10-day ceremony was already submitted to the Government for approval.
By Nguyên Hồ