Ha Noi acts to ward vulnerable groups amid COVID-19 spike
VGP - VGP – Chairman of the Ha Noi Municipal People's Committee Chu Ngoc Anh has recently signed Document 45/UBND-KGVX on management and protection of vulnerable people against COVID-19.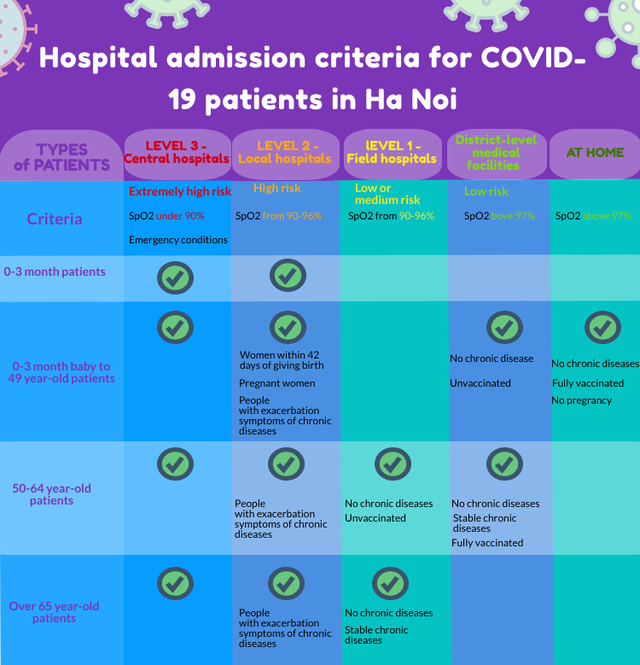 The move was taken as the city confirms over 2,000 infections daily.
Under the document, districts and communes are tasked to enlist and strictly manage vulnerable groups and people with chronic diseases for assistance.
Districts and communes are responsible for setting up mobile teams to conduct house-to-house vaccination campaign and categorize COVID-19 patients.
Earlier, on January 6, the Ha Noi Health Department adjusted hospital admission criteria.
Accordingly, COVID-19 patients at extremely high risks, suffering from emergency conditions with oxygen saturations (SpoO2) less than 92% will be admitted to hospitals at the third level. The highest level comprises five local hospitals namely Duc Giang, Thanh Nhan, Ha Dong, Xanh Pon and Son Tay, central and ministerial hospitals.
COVID-19 patients at high risks including people with exacerbation symptoms of chronic diseases, pregnant women, women within 42 days of giving birth, under three-month old babies, and others with oxygen saturations (SpoO2) from 90-96% will be admitted to hospitals at the second level. The level comprises district-level hospitals and some municipal ones.
Patients at low or medium risks will be treated at the first level including over 65-year-old people with or without chronic diseases at stable conditions; 50-64 year-old ones without chronic diseases and vaccination; people with stable chronic diseases with signs of fever, cough, sore throat, shortness of breath, SpoO2 of over 97%. These patients will be admitted to field hospitals.
Patients at low risks are 50-64 fully vaccinated people without chronic diseases, unvaccinated people aged three months to under 49 without chronic diseases or with stable chronic disease with SpoO2 of over 97% will be treated at district-level medical stations.
Patients aged from three month to under 49 year-old with full doses of vaccination, non-pregnant women without serious symptoms, SpoO2 of over 97% will stay at home.
On January 17, the People's Committee reported that the city was at Level 2 of disease risk in which Phuc Tho and Phu Xuyen districts remained at green zone; eight districts namely Hoan Kiem, Ba Dinh, Nam Tu Liem, Cau Giay, Thanh Xuan, Gia Lam, Hoang Mai, Long Bien were listed at the third risk level (orange zone). The rest of 20 districts and communes was belong to Level 2 (yellow zone).
Since April 29, Ha Noi detected 65,356 infections including 20,636 community cases and 44,720 others at quarantine camps or lockdown areas./.
By Huong Giang