German business associations expect for Ha Noi-Berlin direct air route
December 01, 2022 3:05 PM GMT+7
VGP - The German Association of Small and Medium Enterprises (BVMW) on November 28 urged the early opening of a direct flight connecting Ha Noi and Berlin, said Andreas Jahn, a member of the Federal Executive Board of the BVMW.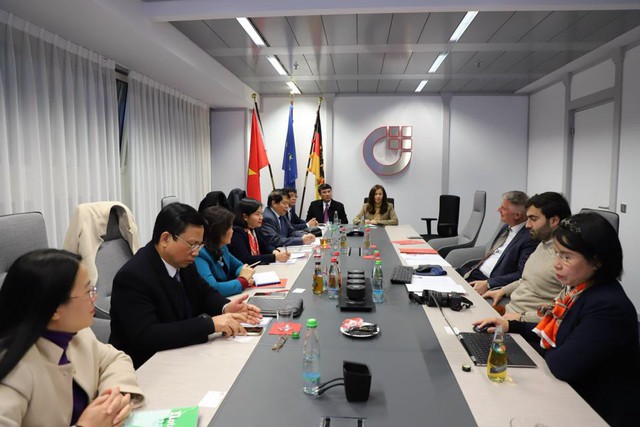 The direct flight linking Ha Noi with Berlin would meet the market demand as some 100,000 Vietnamese people living in Berlin and neighboring regions, a direct flight connecting Ha Noi and Germany's capital city has great potential.
A total of 100,000 Vietnamese people are living in Berlin and neighboring regions, including some 30,000 people staying in the capital city of Germany, he told a meeting with the Vietnamese delegation led by Nguyen Thi Tuyen, Permanent Vice Chairwoman of the Ha Noi Party Committee during their visit to Germany.
The BVMW, with 960,000 German small and medium-sized companies and 75 representative offices across the world, is highly interested in the Southeast Asian market, including Viet Nam, the German official said.
There is a lot of potential for direct flight to thrive, he said, referring to the immense demand for traveling between the two nations.
Economic cooperation is one of the priorities in the Viet Nam-Germany strategic partnership, Ha Noi Party Committee's vice chairwoman Tuyen said, adding Germany is one of Viet Nam's major trade partners in Europe.
She appreciated that the BVMW had actively promoted the partnerships between Ha Noi-based companies and their European and German peers.
Tuyen urged the association to give more assistance to help promote trade and investment activities between Ha Noi and German localities, especially regarding Ha Noi's key exports.
The Vietnamese official hoped that the governments of the two capital cities would foster their bilateral partnership in all fields on the mutual concern.
She expected German partners to further support the development of science and technology, education and training, heavy industries, trade, and tourism in Ha Noi.
Specifically, Tuyen called on Berlin authorities to facilitate access to scholarships and short-term training courses for Vietnamese students and to help businesses on both sides take full advantage of the EU-Viet Nam Free Trade Agreement (EVFTA).
Permanent Secretary at Senate Department for Economics, Energy and Public Enterprises of Berlin, Michael Biel, said that Berlin authorities always seek to expand the relationship with Ha Noi in all fields.
He hoped the visit of the Vietnamese delegation would propel mutual growth and further cooperation between the two cities on the 50th anniversary of the establishment of the Viet Nam-Germany diplomatic relations in 2025.
According to the Vietnamese guests, Germany is the largest trade partner of Viet Nam in the European Union (EU), and in return, Viet Nam is the largest trade partner in Southeast Asia and the sixth in Asia of Germany.
Berlin investors now have 79 active projects in Ha Noi with total registered capital of US$253.3 million.
Most German projects in Ha Noi focus on science and technology, retail, the processing and manufacturing industry, and information and telecommunication. Ha Noi's key exports to Germany are rice and aquaculture products./.- The Hanoi Times