Economic growth in the capital: 'Pushing' from promotional programs
December 12, 2022 11:06 AM GMT+7
VGP - Promotion programs were implemented throughout the year with key activities that contributed to stimulating consumption demand and promoting economic growth in the Capital in 2022.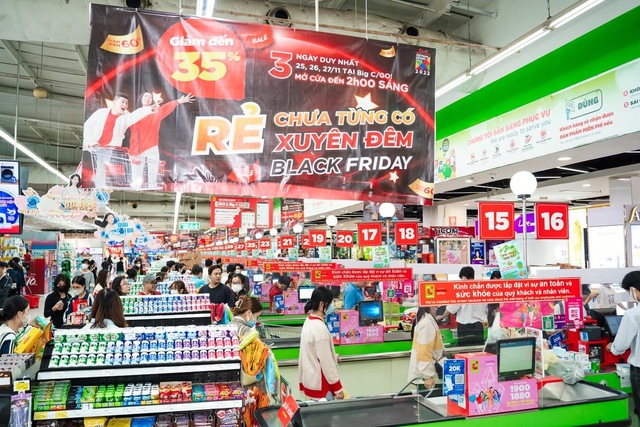 The "Ha Noi Focused Promotion Program" of 2022, deployed in May, July, and November, contributed to strengthening the connection between businesses and consumers, promoting the consumption of goods and service revenue in Ha Noi.
Generally in three months of implementation, Ha Noi Department of Industry and Trade received about 12,000 requests for organizing promotion programs from more than 1,000 businesses in the city.
The total promotional value was estimated at over VND50,000 billion, focusing over 40 percent on the food sector. Consumer goods accounted for about 30 percent and other sectors including fashion, apparel, real estate, and banking accounted for 30 percent.
The program deployed large-scale concentrated promotional events throughout the city with more than 2,000 promotional sales points registered to participate.
Especially, in November 2022, the program took place excitingly with two big events "Ha Noi Promotion Month 2022" and "Ha Noi Midnight Sale" event in 2022.
Besides, the event "Tourism Promotion Day" taking place from November 18 to 20 attracted nearly 20,000 visitors, with more than 3,200 customers registering for tours at the event. The total revenue of the units reached nearly VND30 billion.
Most businesses well complied with regulations on organizing promotional activities and conducting promotions for more product types. The discount rate was also more increased and more flexible compared to previous years.
The program "Ha Noi Focused Promotion" and "Ha Noi Promotion Month 2022" supported many businesses to achieve their production and consumption growth goals when participating in the program.
At the same time, these programs promoted the city's economic growth, especially in the field of trade and services, following the growth scenario after the effects of the COVID-19 epidemic./.