DPM alerts HN to stay vigilant against COVID-19
VGP – Deputy Prime Minister Vu Duc Dam suggested Ha Noi should stay vigilant in the path to flexibly adapt to the pandemic.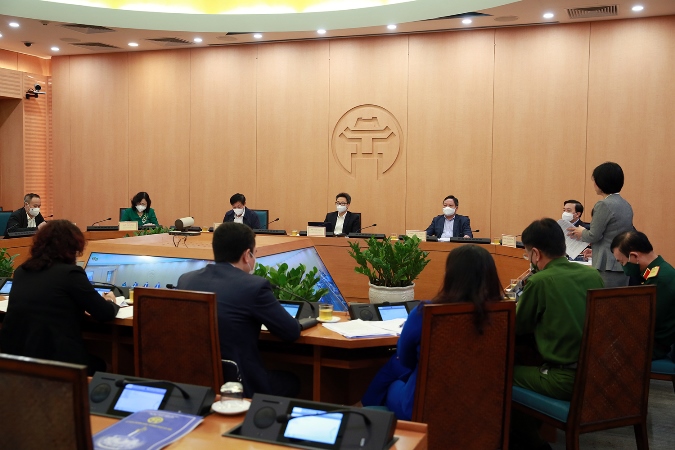 Deputy Prime Minister Vu Duc Dam suggested Ha Noi should stay vigilant in the path to flexibly adapt to the pandemic.
Director of the Ha Noi Health Department Tran Thi Nhi Ha reported that since October 11 when the city implemented Resolution 128/NQ-CP, the city has recorded 442 new infections including 103 community cases, 270 others in quarantine camps, 48 cases at lockdown areas, and 21 imported ones.
She blamed returnees for their violations to stay-at-home order, leading to disease transmission in the community.
So far, the city has reported six new clusters of which Sai Son commune (Quoc Oai district) and Bach Tru commune (Me Linh district) related to mass gatherings of family members. The city also houses 48 lockdown areas in which 15,400 persons are put under quarantine.
Regarding disease level, 332 communes and wards are categorized as Level 1 (green zones), 245 others at Level 2 (yellow zones), two communes and wards at Level 3 (orange zones). The entire city is at Level 2.
In addition, 92.3% of over 18-year-old population have been partially vaccinated, accounting for 69.4% of the local population. Up to 55.4% of the adult population have been fully vaccinated, accounting for 41.6% of the local population.
Specifically, vaccination rates of over 50-year-old population are 79% for one dose and 45.9% for two doses.
Ms. Tran added that about 1 million people aged over 50 are waiting for their deadlines to get the second doses from November 15. The city has been ready to vaccinate teenagers in line with instructions of the Ministry of Health.
The local medical sector has already prepared to treat 22,100 asymptomatic and mild patients. Eight hospitals and two treatment centers with 2,640 beds have been mobilized to handle COVID-19 patients in Ha Noi. The concentrated oxygen system at 25 hospitals has been put into operation with 3,200 slots. All of 30 districts and communes have crafted plans on mobile medical stations.
Addressing the meeting, Deputy PM Vu praised the local authorities for their good performance in disease prevention and control although Ha Noi is a big urban city with high demands for exchanges.
However, he said the city should stay vigilant against COVID-19 as Viet Nam daily reports about 5,000 new cases of infections.
The Government leader proposed the city to enable local people to consistently pursue the principles of early detection, isolation, stamping, and treatment in line with practical circumstances./.
By Khanh Phuong