Creating breakthrough to remove 'bottlenecks' of traffic jams
December 12, 2022 11:21 AM GMT+7
VGP - Ha Noi needs to implement primary and long-term solutions such as investing in the development of synchronous transport infrastructure, strengthening the development of public passenger transport, to remove traffic jam bottlenecks.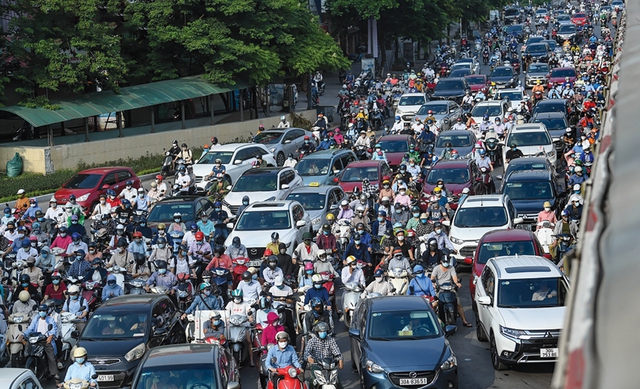 Since the expansion of its administrative boundaries, Ha Noi's transport infrastructure had a positive change and gradually synchronized, contributing to building an increasingly civilized and modern urban face.

A series of ring roads, urban trunk roads and many vital projects have brought significant effects, such as Thang Long Boulevard, Ring Road 1, Vinh Tuy Bridge, and Dong Tru Bridge, to name but a few.
However, new roads have almost immediately become overcrowded, especially during peak hours, holidays and Tet. The elevated Ring Road 3 was a typical example of increasing congestion.
Since the beginning of 2022, the Ha Noi Department of Transport has coordinated with the City Police, the People's Committees of districts and related units to handle 8/35 points of frequent traffic jams during peak hours.
To improve the traffic situation at the end of the year, the Department of Transport has coordinated with relevant agencies to handle four traffic jams at the intersection of Le Van Luong - Hoang Minh Giam, Chau Van Liem - Le Quang Dao crossroads, Trung Van sewer area and Le Quang Dao intersection - the road gathering Thang Long Boulevard.
At the same time, the Department continues to coordinate with the Traffic Police force of the city Police Department to monitor and adjust traffic organization on the following routes: Ring Road 2, Ring Road 3, Nguyen Trai, Tran Phu, Quang Trung streets, Au Co Street, and Nghi Tam.
Additionally, the Ha Noi Department of Transport has developed a plan to ensure traffic order and safety, serving the travel needs of the people during the New Year, the Lunar New Year and the Spring Festival in 2023./.