COVID-19 surge has yet put hospitals on overload
February 16, 2022 10:04 AM GMT+7
VGP - The rates of critically ill-patients and fatalities are put under control in Ha Noi, said Vice Director of the Ha Noi Department of Health Vu Cao Cuong.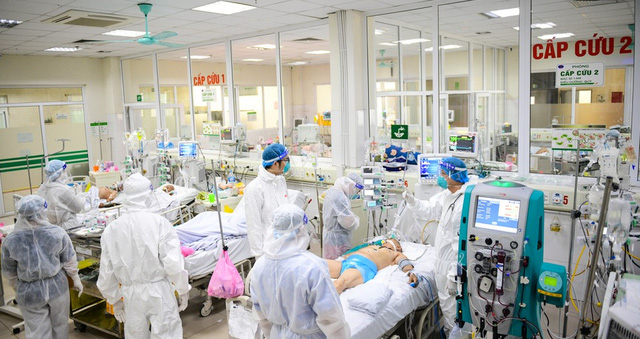 Mr. Cuong reported that the city has daily reported 2,835 new case of infections over the past two weeks. The number of new infections is expected to increase in the coming weeks after the Tet holiday. However, disease outbeak and the rates of critically ill patients and fatalities are still put under control.
However, the official underlined the neccessity to keep a close watch on disease transmission to ensure economic recovery and health protection in case of less restrictions on transport, tourism and international trade resumption which would lead to Omircon viriant import.
Regarding COVID-19 vaccination, over 14.9 million doses of COVID-19 vaccines had been administered. Especially, 237.985 shots were given to local people during the Spring vaccination campaign which targets to provide booster shots for local residents before February 28.d
Vice Director of the Department of Education and Training Tran Luu Hoa said that so far infectious rate among students and teachers was only 0.4%. If the disease outbreak will decine and disease prevention protocols are ensurd, students from the first to sixth grades in the 12 districts will be allowed to back to school from February 21.
The Department also planned to propose physical learning for kindergartent kids following vaccination coverage for 5-11 year-old children.
Earlier, over 600,000 students from grades 7 to 12 in Ha Noi returned to schools after ten months at home studying online on February 8 with school canteens closed, safety measures strictly enforced and all teachers fully vaccinated.
The Ha Noi People's Committee also approved a plan on allowing students in grades 1-6 to return to schools in 18 suburban districts through out the city from February 10./.