Consumers increasingly prefer "green" products
April 25, 2023 8:06 PM GMT+7
VGP - "Green products" are preferred by many people because consumption in modern society sets requirements not only for quality, utility, and cost, but also sustainability and environmental friendliness in each product.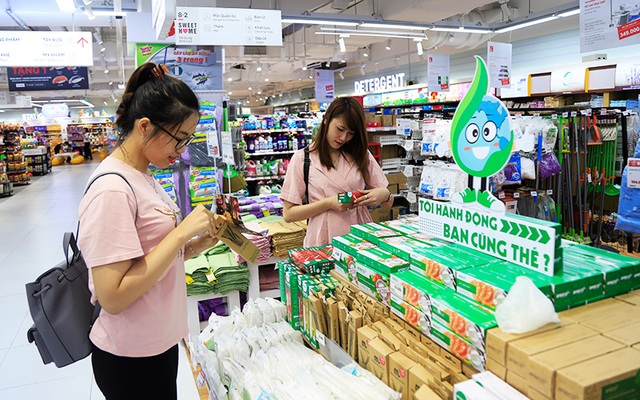 Green consumption is part of Viet Nam's Green Growth Strategy for the period 2011-2020 with a vision to 2050. Over the years, many green consumption models have been responded to by the community such as: Wrapping vegetables, tubers and fruits with banana leaves; using glass water bottles, bamboo or paper straws.
Currently, many shops, supermarkets and people have chosen environmentally friendly products for regular use. These products receive positive response by consumers and tend to increase in the near future.
Environmental experts see green consumption as a measure to "save the earth" against nagative changes of the global living environment.
In recent years, many companies have focused on investing in modern machinery and equipment according to international standards, as well as towards green and clean production criteria.
Notably, many textile enterprises have invested themselves or cooperated with investment funds and developers to install solar power systems on the roofs of factories, using clean energy for production.
Chairwoman of Viet Nam High Quality Goods Business Association, Vu Kim Hanh said, it was the standardization of stages in production, standardization of product quality, and meeting the "green" requirements of the market that have brought businesses to the green economy.
It can be seen that, in order to move towards green production and sustainable consumption models, efforts from manufacturers and suppliers as well as changes in consumers' shopping habits are required.
Additionally, there is a need for appropriate support mechanisms, policies and programs from local authorities in encouraging green and sustainable production and consumption models./.