Capital suspends religious services over COVID-19 fears
VGP – The local authorities of Ha Noi have suspended all communal gatherings for religious ceremonies from May 29 in an effort to curb the spread of COVID-19.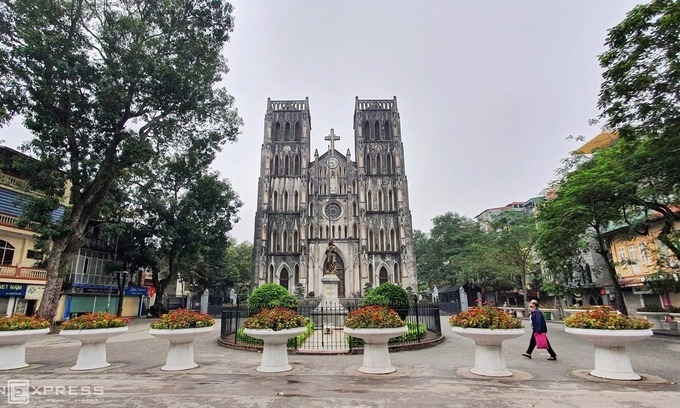 The St. Joseph's Cathedral in Hanoi is left deserted during social distancing period in April 2020. Photo by VnExpress/Giang Trinh.
Religious dignitaries and followers are required to follow countermeasures against the pandemic, joining the city's fight against COVID-19, and shifting religious services from face-to-face to virtual.
The suspension will last until further notice, according to a document signed by Deputy Chairman of the Ha Noi People's Committee Le Hong Son.
Religious dignitaries are advised against inviting foreigners to Viet Nam for missionary work, mostly those from or go through pandemic-hit areas, or going abroad for religious rituals until further notice.
Heads of religious establishments would be liable if disease transmission happened for flouting such advisories.
Earlier, State employees working in Ha Noi who want to go out of the capital city during public holidays or weekends, must be permitted by their superiors and make a medical declaration when returning, said authorities of the Ha Noi People's Committee.
The city has set up four Covid-19 checkpoints in Soc Son district bordering between Hanoi and the two provinces.
The city ordered food and beverage establishments as well as hair salons and beauty parlors closed, starting May 25. Local residents have already stopped their entertainment activities, outdoor physical exercises and large gatherings in parks, gardens and public locations.
Hanoi has so far reported 335 cases in the new Covid-19 wave. Of these, 137 have been detected in two hospitals under lockdown, including the National Hospital for Tropical Diseases and the K Hospital that specializes in cancer treatment.
As of mid-May 31, Ha Noi confirmed 411 locally-transmitted cases./.
By Kim Loan