Capital strives for high economic growth this year
October 19, 2022 4:10 PM GMT+7
VGP - The local authorities of Ha Noi will double effort to attain high economic growth this year while ensuring that inflation stays below the target, according to Document No.3324, signed by Ha Noi People's Committee Tran Sy Thanh.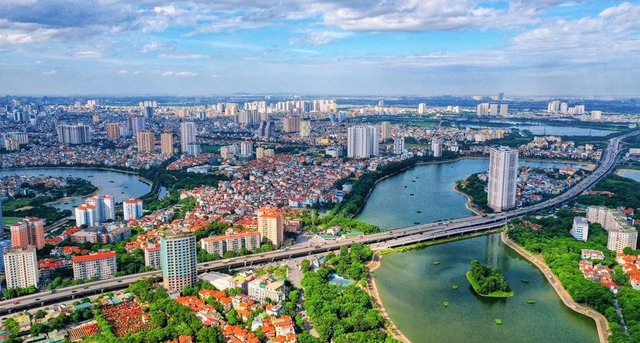 The document is part of the city effort to materialize Prime Minister's Directive 15/CT-TTg dated September 16, 2022 on regarding key tasks and solutions for maintained macroeconomic stability, controlled inflation.
Under the document, Ha Noi's authorities would continue to manage the macro-economy in a flexible, playful, and creative manner to maintain stability amid growing global uncertainties.
The local Government needs to anticipate risks and negative impacts from both domestic and external fronts on the economy to timely intervene, if needed.
The city will continue pursuing global integration by stepping up cooperation with international partners.
With macro stability among critical priorities for Ha Noi, the document stressed the city's need to keep a cautious approach to monetary policy management, which should be harmonious with an expansionary fiscal policy.
At the same time, Ha Noi would strive to maintain the safety and security of the finance-banking, food, security, and information sectors and promote driving forces for growth from both supply and demand sides (consumption, investment, and exports).
The city would also enhance supervision of prices of strategic commodities, especially fuel and oil, refine the legal framework, apply IT applications, digital transformation, and a green transition, and support diversification of supply chains and export markets.
Ha Noi continues to foster innovation and startups for greater productivity, quality, and the overall efficiency of the economy.
Hanoi expected higher efficiency in the operation of the local apparatus by raising discipline among public servants and through decentralization in the decision-making process at different agencies.
Another critical task for the city is to strictly comply with Covid-19 preventive measures and stand ready to deal with any new diseases, keep social welfare intact and constantly improve people's living standards.
In Q3, Ha Noi's gross regional domestic product (GRDP) growth rate expanded by 15.71 percent, taking the city's nine-month economic growth to 9.69 percent.
Earlier, the local authorities set the growth target of 7-7.5% this year./.