Capital promotes cultural industry
March 03, 2022 11:08 AM GMT+7
VGP - Secretary of the Ha Noi Party Committee Dinh Tien Dung has recently signed the Resolution on Cultural Industry development in the 2021-2025 period with a vision towards 2030 in a bid to materialize the capital's ambitious target of becoming a model of economic and cultural development in the Asia Pacific region.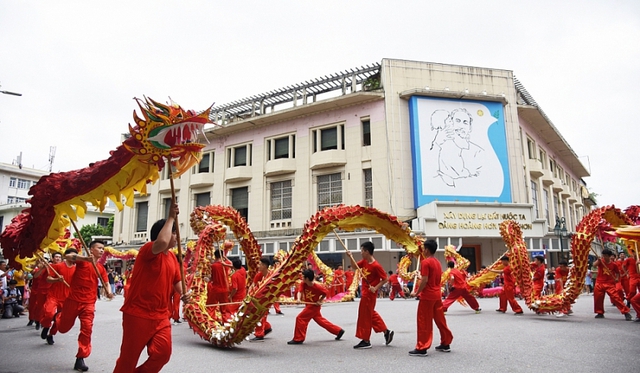 Under the resolution, cultural industry will be a key area contributing 10% of the city's GRDP by 2045.
The Ha Noi Party Committee identifies the task of fostering cultural industry as the top priority in the capital's socio-economic development strategy in the coming time.
The development of the cultural industry must be based on the principle of ensuring harmony between conservation and development.
Specifically, Ha Noi will focus on investing in a number of areas of great potential and advantages such as cultural tourism; performing arts; crafts; design; advertisement; fine arts, photography and exhibitions; film; fashion; cuisine; software, entertainment and games; television and radio, publishing, among others.
Specific goals
By 2025, the cultural industry will become an important economic sector, creating a driving force to promote the development of the economy, culture and society of the capital.
Ha Noi will improve its infrastructure in a synchronous and modern manner; invest in the cultural projects, which are associated with tourism development; well preserve available national monuments such as Thang Long Imperial Citadel, Temple of Literature, Co Loa relic, among others.
By 2030, the cultural industry will basically become a spearhead economic sector, striving to contribute about 8% of the capital's GRDP. Ha Noi may own some prestigious cultural products that are able to compete with other cities in the region. The capital of Vietnam will be the leading "Creative City" in Southeast Asia.
By 2045, the capital's cultural industry will become a comprehensive spearhead economic sector, contributing about 10% of the city's GRDP.
Cultural economy seeks specific mechanism
With the advantage of concentrating intangible and tangible cultural heritages, Ha Noi will continue to exploit and promote resources to create cultural spaces and creative communities, expand opportunities for creators, contribute to promoting the capital's cultural values, and develop the capital into a major cultural center of the country.
Especially, land funds on Red River banks, urban development areas, and satellite urban areas will give a priority to cultural and tourism construction projects.
The city will also focus on key measures such as creating a favorable environment and policies to develop the cultural industry, building infrastructure, facilities and a creative cultural ecosystem with a cultural market and education system.
Ha Noi became a member of the UNESCO's Network of Creative Cities in October 2019, as a creative city in the field of design and is currently the only city in Viet Nam to participate in this network./.