Australian Foreign Minister enjoys "Pho" in Ha Noi
June 30, 2022 4:13 PM GMT+7
VGP - Australian Foreign Minister Penny Wong enjoys Ha Noi's specialty of Pho ga or chicken noodles as she arrived in the city on her first visit to Viet Nam.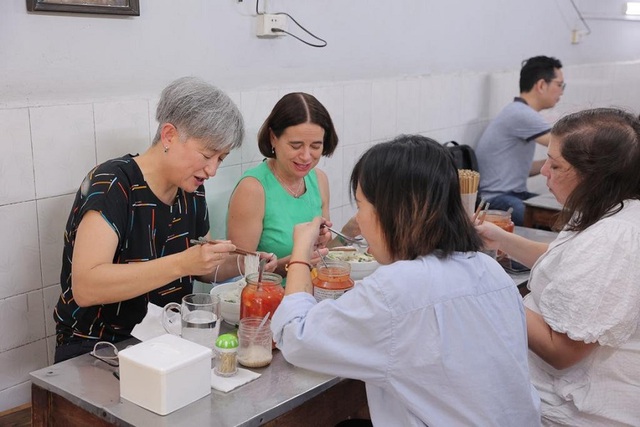 In a Facebook post on June 27, the Embassy of Australia in Ha Noi shared that Minister Wong was introduced by Chef Tran to the history and importance of Pho, and especially the Hanoian style of eating Pho.
The photo shows the top diplomat in casual wear, enjoying Pho ga with Ambassador Mudie and sharing "views on Australia and Viet Nam's strong people-to-people links."
Penny Wong is on her trip to Viet Nam on June 26-28 at the invitation of Foreign Minister Bui Thanh Son. This marks her first visit to Viet Nam as an Australian Foreign Minister.
Pho is a very popular traditional food in Viet Nam, a steaming bowl of pho noodle soup is never hard to find.
Ha Noi is thought to be the most delicious and fussy not only because of the quality itself, but also because of how it is made and tasted.
Pho is also a well-known common breakfast of the Hanoi people for its quintessence whenever we recall Hanoi food. For those travelling to Ha Noi, eating Pho in the morning is really an unforgettable memory./.