60-hour livestream shopping to open tomorrow
December 01, 2022 3:26 PM GMT+7
VGP - A 60-hour livestream, offering thousands of discounts to consumers, will take place from 0:00 to 12:00 between December 2 and 4 on the onlineFriday.vn website and the e-commerce section of social media giant TikTok Shop.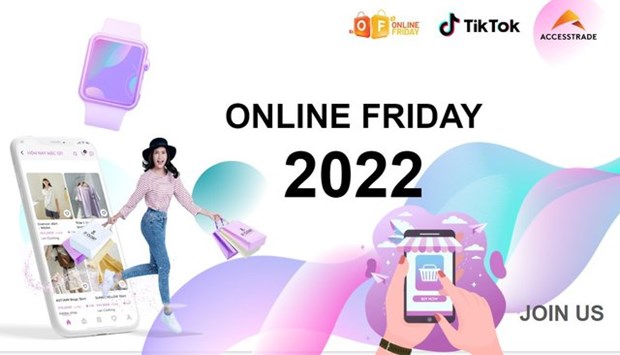 The program is part of the Viet Nam Online Shopping Week, held by the Viet Nam e-Commerce and Digital Economy Agency (iDEA) under the Ministry of Industry and Trade (MoIT), from November 28 to December 4.
The Online Friday event will be the largest online shopping day of the year, with the participation of numerous enterprises, who will offer exclusive discounts of up to 100%.
The program is expected to help consumers recognize and use genuine products, especially those originating in Viet Nam.
The Viet Nam Online Shopping Day program has been implemented since 2014, and total sales of participating retailers at its peak have reached more than VND160 billion (US$7 million) in 2021, according to MoIT.
Also, in November, the Ministry of Industry and Trade organized the national promotion month - the Vietnam Grand Sale 2022, starting November 15 to December 22.
In the 2022 program, all merchants could implement promotional programs with discounts of up to 100 percent depending on each business instead of 50% promotions as normally.
Along with the national event, Ha Noi also hosted the 2022 promotion month, drawing many businesses in the city with more than 1,000 retail points during November. The participants have been offered tens of thousands of promotions and discounts of up to 50 percent.
It is one of many annual events in the city's trade promotion program, which is held throughout the year to stimulate consumer spending and provide businesses with the opportunity to promote Vietnamese brands.
The event will enable consumers to buy goods at affordable prices, especially at the end of the year when the national holiday or Tet (Lunar New Year) approaches.
The 2021 Ha Noi Promotion Month drew the participation of over 1,000 enterprises, with discounts totaling up to VND20 trillion (US$875 million), according to the municipal Department of Industry and Trade.
Of the discounted items, the food sector made up 40 percent, consumer goods 30 percent, and other industries (including fashion, apparel, real estate, and finance) accounted for 30 percent./.